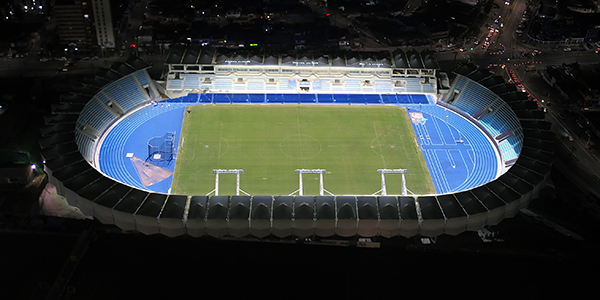 IQUIQUE, Chile–The complete remodeling of the emblematic stadium will premiere Musco Lighting's LED system, the first installation of this state-of-the-art technology in the country, with the help of our SportWelt distributors.
"We are proud to have installed our first Musco LED solution at the Estadio Tierra de Campeones Ramón Estay Saavedra, in the emblematic sports venue located in the city of Iquique, in northern Chile," says SportWelt General Manager Juan Carlos Moeckel. In addition to sports lighting, SportWelt participated in the construction of the brand new athletic track.
In order to select Musco's LED fixture, SportWelt carried out a study, analysis and design with Musco's engineers to figure out a solution tailored to the specific requirements of the project.
"This involved a long, detailed and very professional process," Moeckel says.
One of the aspects most valued by the electrical specialists of the team that worked in Iquique was the anchoring and aiming features offered by Musco's technology, since it allows an effective control of light, reduces light pollution and helps achieve high energy-efficiency.
Vice President of Deportes Iquique Jorge Fistonic, the first division football club that will play at the venue, talked about the quality presented by the new stadium: "One of the new things included in the emblematic establishment is lighting, which is top-notch. With these lights we comply with all the standards at the South American level."
The regional ministerial secretary of the Ministry of Public Works, Patricio Altermatt also added in a statement that the stadium "will be the most modern in the country after its renovation. It's construction makes it the most modern sports stadium in Chile. The athletic track is state-of-the-art, it is a German surface and specialized individuals came to supervise its construction. The stadium is going to be an important public building site for the city."
About Musco Lighting
Since 1976, Musco Lighting has led the world in the design and manufacture of sports and large area lighting solutions. The company has pioneered the most innovative systems using metal halide and LED technologies, resulting in an unparalleled ability to control glare and light spill in a way that's cost effective and energy efficient. Musco has been engineering systems around the LED for nearly a decade, and has designed permanent and temporary solutions for everything from Little League® fields to Olympic Games. The company has earned awards including an Emmy for the quality of its lighting in television broadcasts and a Technical Academy Award for movie lighting. Musco's global team of experts partner with customers to plan, complete, and maintain a trouble-free solution for their facilities.
For more information on Musco's innovative lighting solutions, visit:
www.musco.com
.