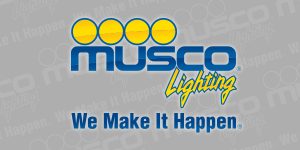 NOTRE DAME, INDIANA and OSKALOOSA, IOWA–The University of Notre Dame will add another groundbreaking accomplishment to its rich history with the installation of a new LED lighting system at Notre Dame Stadium as part of the university's "Campus Crossroads" project. The new lighting solution provided by Musco Lighting will keep Notre Dame Stadium at the forefront of sustainable technology and innovation.
No stranger to Musco's innovation, in 1982, Notre Dame made headlines with a televised primetime college football game held at Notre Dame Stadium made possible by Musco Mobile Lighting. Famed sportscaster, Keith Jackson recalled the event as, "The night the lights went on at Notre Dame Stadium." But that was only the beginning of a partnership founded on a commitment to excellence, efficiency, and service. Musco installed Notre Dame Stadium's first permanent lighting system in 1997 and has since provided lighting for Frank Eck Baseball Stadium, Melissa Cook Softball Stadium, Alumni Soccer Stadium, and Stinson Rugby Field. In 2013, the university installed Musco's LED solution at the Purcell Pavilion. The company has also supported the university in its LED lighting upgrades for the Golden Dome and the Word of Life Mural (Touchdown Jesus).
"We have long cherished the collaborative relationship we have had with Musco as they have worked with our staff to light countless athletic and iconic venues on our campus," said Paul Kempf, Senior Director of Utilities & Maintenance, University of Notre Dame. "We look forward to our continued partnership towards advancing the quality and efficiency of lighting technologies in support of our university's vision and mission."
The new system features custom optics that will reduce glare and render a world-class experience for athletes, spectators, and television HD broadcasts. The system will also significantly reduce energy consumption and eliminate maintenance costs with a 10-year parts and labor warranty.
"We're proud to continue our partnership with the University of Notre Dame," said Jeff Rogers, Vice President of Developmental Sales, Musco Lighting. "The new system will assist the university as it strives towards sustainable energy practices, offering players and fans the best possible experience."
Notre Dame Stadium will join an extensive list of world-class facilities that benefit from Musco's state-of-the-art LED lighting solutions, including NRG Stadium – home of the Houston Texans, the Denver Broncos Field House, Emirates Stadium – home of Arsenal Football Club, and AT&T Stadium – home of the Dallas Cowboys.
About Musco Lighting
Since 1976, Musco Lighting has led the world in the design and manufacture of sports and large area lighting solutions. The company has pioneered the most innovative systems using metal halide and LED technologies, resulting in an unparalleled ability to control glare and light spill in a way that's cost effective and energy efficient. Musco has been engineering systems around the LED for nearly a decade, and has designed permanent and temporary solutions for everything from Little League® fields to Olympic Games. The company has earned awards including an Emmy for the quality of its lighting in television broadcasts and a Technical Academy Award for movie lighting. Musco's global team of experts partner with customers to plan, complete, and maintain a trouble-free solution for their facilities.
For more information on Musco's innovative lighting solutions, visit:
www.musco.com.