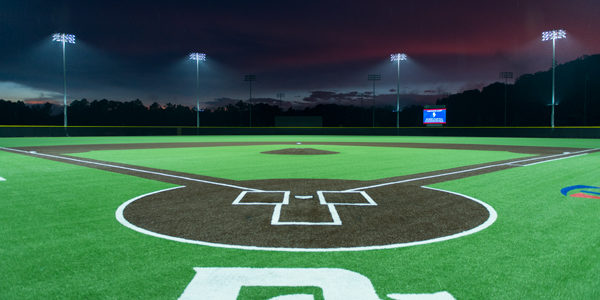 EMERSON, Ga.–LakePoint Sporting Community, the world's largest sports vacation destination, has partnered with the leading innovator of sports lighting solutions, Musco Lighting, to provide a LED lighting system for enhanced playability and energy efficiency. LakePoint is the first multi-field sports complex to use Musco's cutting-edge lighting solution harnessing LED technology to direct more light onto the playing surface.
The specially designed LED lighting system enhances playability by significantly reducing glare, improving visibility for both players and spectators. Batters and outfielders will especially notice the dramatic reduction of glare. The lighting system has over 122,000 LEDs mounted in nearly 1,300 luminaires that have been custom designed for advanced light control.
"This lighting is unlike any other that I've seen," said Perfect Game Spring Swing Director, Kevin Herlihy. "There is no yellowish or dingy hue and it has up-lights that light the bottom of the baseballs. We took numerous fly balls with Musco's R&D team that were much higher than what we'll see on typical nights, and we never lost track of any in the night's sky."
In addition, the LED lighting system will maximize LakePoint's efficient use of energy with instant on/off capabilities and dimming controls, which allow for the light output to be adjusted when full power of the system is not needed. Musco's Control-Link™ System also provides flexible control and management of each field with easy-to-use scheduling and reporting capabilities through web-based software and a 24/7-call center.
"At LakePoint, we strive to find innovative ways to make the world of sports a better & safer place, while minimizing our environmental footprint," says LakePoint CEO, Earl Ehrhart. "By partnering with Musco, we are much closer to achieving both of those goals. We look forward to sharing the enhanced experience with future LakePoint guests."
"We are excited to partner with LakePoint to deliver a cutting-edge LED lighting solution for their state- of-the-art sports complex," said Musco Lighting's Vice President of Developmental Sales, Jeff Rogers. "This efficient lighting system will contribute to the sustainability goals of LakePoint with a dramatic reduction in energy consumption, while delivering an exceptional experience for players and spectators."
The LED lighting system has been completed on LakePoint's south campus. Perfect Game USA and Rally Volleyball, two of LakePoint's long-term sports tenants, will be the first beneficiaries to experience the effects of Musco's LED lighting.
About LakePoint Sporting Community
Bartow County and the City of Emerson will become the unparalleled sports vacation destination in the world with the development of LakePoint Sporting Community. The development will include 1,400+ acres, which will feature state-of-the-art venues for over 40 of America's favorite youth sports and 5 million square feet of mixed-use development. Along with sports, LakePoint will include approximately 29 on-site hotels, restaurants, retail shops, office space and several other entertainment venues. To learn more about LakePoint Sporting Community, please visit www.lakepointsports.com. Find us on Facebook www.facebook.com/lakepointsports.
About Musco Lighting
Since 1976, Musco Lighting has led the world in the design and manufacture of sports and large area lighting solutions. The company has pioneered the most innovative systems using metal halide and LED technologies, resulting in an unparalleled ability to control glare and light spill in a way that's cost effective and energy efficient. Musco has been engineering systems around the LED for nearly a decade, and has designed permanent and temporary solutions for everything from Little League® fields to Olympic Games. The company has earned awards including an Emmy for the quality of its lighting in television broadcasts and a Technical Academy Award for movie lighting. Musco's global team of experts partner with customers to plan, complete, and maintain a trouble-free solution for their facilities.
For more information on Musco's innovative lighting solutions, visit:
www.musco.com
.