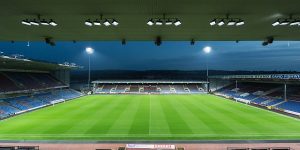 BURNLEY, ENGLAND–Burnley Football Club returned to the Premier League in full force with the installation of Musco's LED floodlights at Turf Moor.
Burnley recently earned its promotion back into the top-tier league in England after finishing first in the Football League Championship. Having previously installed a lighting system from Musco in 1996, club officials once again turned to the leader in sports lighting solutions for a system that would showcase an improved visual experience at Turf Moor, while meeting Premier League lighting requirements. Those needs were met with Musco's SportsCluster® system LED system.
The new floodlights provide several benefits at Turf Moor:
Higher Light Quality – Increases light levels by 100 percent compared to the prior lighting equipment, while only increasing energy consumption by 20 percent
Improved Broadcasts – Eliminates "flicker" effect for television broadcasts
Focused Light – Creates a theatre-like atmosphere with customised optics to direct light on the pitch
Visibility – Minimises glare, preventing light from shining into the eyes of players and spectators
Lower Operating Costs – Provides instant on/off capabilities and dimming controls that allow for the light output to be adjusted when full power of the system is not required
Special Effects Capabilities – Delivers theatrical special effects for pre-game and halftime lighting entertainment
In addition to the lighting at Turf Moor, the club has selected Musco's LED lighting solution at its Gawthorpe Training Ground. Both systems will be covered by a 10-year long-term parts and labour warranty backed by a team of technicians that will eliminate maintenance costs for the next decade.
"We are excited to once again work with Burnley FC to provide the latest in sports lighting technology," said Jeff Rogers, President of Musco World. "Our system will reduce energy costs, significantly improve television broadcast quality, and enhance the stadium experience for fans at Turf Moor."
Turf Moor will become the latest Premier League stadium to feature a lighting system provided by the company. That list includes Arsenal FC's Emirates Stadium (LED), AFC Bournemouth's Vitality Stadium (LED), Middlesbrough FC's Riverside Stadium (LED), Tottenham Hotspur FC's White Hart Lane, and Stoke City FC's Britannia Stadium.
About Musco Lighting
Since 1976, Musco Lighting has led the world in the design and manufacture of sports and large area lighting solutions. The company has pioneered the most innovative systems using metal halide and LED technologies, resulting in an unparalleled ability to control glare and light spill in a way that's cost effective and energy efficient. Musco has been engineering systems around the LED for nearly a decade, and has designed permanent and temporary solutions for everything from Little League® fields to Olympic Games. The company has earned awards including an Emmy for the quality of its lighting in television broadcasts and a Technical Academy Award for movie lighting. Musco's global team of experts partner with customers to plan, complete, and maintain a trouble-free solution for their facilities.
For more information on Musco's innovative lighting solutions, visit:
www.musco.com
.