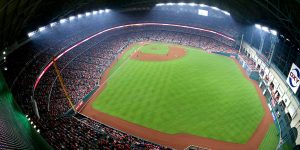 HOUSTON, TX and Oskaloosa, Iowa–When Major League Baseball's Houston Astros take the field on April 11 against the Kansas City Royals at Minute Maid Park, it will be under Musco's cutting-edge SportsCluster® system. As part of continued upgrades to Minute Maid Park, the new lighting system will provide unprecedented levels of energy efficiency and enhance the spectator experience at the ballpark.
The new system, which replaces the original metal halide lighting equipment that was installed when the 40,000-seat stadium opened in 2000, will consume less energy, require less maintenance and offer special effects to enhance the ballpark's entertainment experience. That's why the Astros looked to Musco for a customized solution.
"We are continuously looking for ways to improve the stadium experience for both our fans and our players," said Astros President of Business Operations Reid Ryan. "The new LED lighting system will help us provide a top of the line experience while increasing our energy efficiency all year long. We look forward to seeing the field of Minute Maid Park under new lights in 2016."
Musco's lighting solution will provide a variety of benefits that will help conserve energy, and improve the experience for spectators, athletes, and television broadcasts.
Cuts energy consumption by 52 percent, enough to power 380 Texas homes for each hour of use
Reduces glare with specially designed optics allowing players to see the complete trajectory of the ball
Creates a stage-like atmosphere for fans
Eliminates maintenance with Musco's long-term parts and labor warranty
"We've been helping customers for four decades provide energy-efficient solutions that improve the playing environment for athletes and fans," said Jeff Rogers, Vice President, Musco Lighting. "The new system will not only improve the Astros' energy efficiency, but will bring a new level of entertainment with special effects and our patented optics."
Minute Maid Park will become the second MLB venue to install Musco's innovative LED solution and joins an extensive list of premier facilities that feature a customized Musco LED lighting system. That list includes the Houston Texans' NRG Stadium, the San Antonio Spurs' AT&T Center, and Arsenal Football Club's Emirates Stadium.
About Musco Lighting
Since 1976, Musco Lighting has led the world in the design and manufacture of sports and large area lighting solutions. The company has pioneered the most innovative systems using metal halide and LED technologies, resulting in an unparalleled ability to control glare and light spill in a way that's cost effective and energy efficient. Musco has been engineering systems around the LED for nearly a decade, and has designed permanent and temporary solutions for everything from Little League® fields to Olympic Games. The company has earned awards including an Emmy for the quality of its lighting in television broadcasts and a Technical Academy Award for movie lighting. Musco's global team of experts partner with customers to plan, complete, and maintain a trouble-free solution for their facilities.
For more information on Musco's innovative lighting solutions, visit:
www.musco.com
.