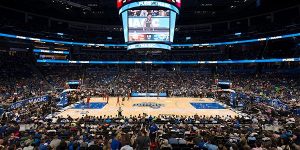 ORLANDO, Florida–The City of Orlando recently installed a Musco LED system at Amway Center as part of Orlando Mayor Buddy Dyer's Green Works Orlando program that aims to transform the city into one of the most sustainable cities in the nation.
"The City of Orlando is leading by example by making energy efficiency improvements to our own facilities," said Orlando Mayor Buddy Dyer. "These improvements will not only save our taxpayers money, but they will also make a significant impact to our community by creating a more sustainable environment for future generations to come."
Amway Center, the preeminent sports and entertainment venue in Orlando, opened its doors in 2010 and is home to the NBA's Orlando Magic and the ECHL's Solar Bears. It is the first NBA facility to earn LEED (Leadership in Energy and Environmental Design) Gold in new construction certification from the U.S. Green Building Council, using 20 percent less energy and 40 percent less water than arenas of similar size. In keeping with its tradition of offering an unmatched fan experience, the City of Orlando wanted a lighting system that would offer a superior visual experience without compromising the venue's energy efficiency.
Those needs were met with the features offered by Musco's LED system:
Improved Visibility

 

– Customized optics focuses light onto the playing surface, preventing light from shining into the eyes of players and spectators
Enhanced Experience

 

– Superior light quality creates a stage-like atmosphere for spectators and eliminates the "flicker" effect during slow motion replay
Energy Efficiency

 

– Provides instant on/off capabilities and dimming controls for the light output to be adjusted when full power of the system is not needed
Special Effects

 

– Interfaces with a DMX control board for special effects
The system reduces energy consumption at Amway Center by 60 percent compared to the prior lighting equipment. And maintenance costs are eliminated with a comprehensive 10-year parts and labor warranty.
"We are thrilled to provide Amway Center with a lighting system that will deliver a superior entertainment experience and get the crowd going for games," said Jeff Rogers, Vice President of Musco Lighting. "Our system will also reduce energy consumption at the venue, eliminate any maintenance headaches with our 10-year warranty and provide the latest innovations in sports lighting special effects."
Amway Center joins an extensive list of facilities that feature an energy-efficient lighting system provided by Musco, including the Dallas Cowboys' AT&T Stadium and the San Antonio Spurs' AT&T Center.
About Musco Lighting
Since 1976, Musco Lighting has led the world in the design and manufacture of sports and large area lighting solutions. The company has pioneered innovative systems using metal halide and LED technologies, resulting in an unparalleled ability to control glare and light spill in a way that's cost effective and energy efficient. Musco has been engineering systems around the LED for nearly a decade, and has designed permanent and temporary solutions for everything from Little League® fields to Olympic Games. The company has earned awards including an Emmy for the quality of its lighting in television broadcasts and a Technical Academy Award for movie lighting. Musco's global team of experts partner with customers to plan, complete, and maintain a trouble-free solution for their facilities.
For more information on Musco's innovative lighting solutions, visit:
www.musco.com.